Shirakawago Light Up 2017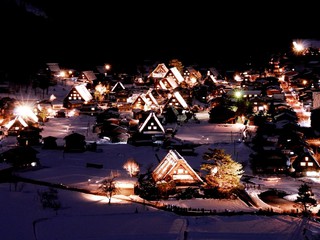 Shirakawago is located in the northwestern part of Gifu Pref. and is next to Gokayama Village in Toyama pref. It is popular for its traditional and unique architecture called Gasho-zukuri (thatched roof houses). The Shirakawago Light Up is one of the main winter event there.
During the light-up event, village's gassho-zukuri farmhouses are lit up from 17:30 to 19:30. The entire village is softly illuminated in the glare of floodlights until around 20:00.

[Shirakawago Light-up Guide Map and Info]
http://lightup.asia/schedule/?lang=en

[Shirakawago General Information]
http://shirakawa-go.org/en/sightseeing/
https://www.jnto.go.jp/eng/regional/gifu/sirakawagou.html

[Useful Info for Takayama/Shirakawago]
http://www.jnto.go.jp/eng/location/rtg/pdf/pg-409.pdf


Access
From Shinjuku (Tokyo) [Shinjuku(Tokyo)] ⇔ [Takayama] ⇔ [Shirakawago]
By Bus
Take an expressway bus from Shinjuku Expressway Bus Terminal to Takayama, and take a Nohi bus from Takayama to Shirakawago.
Book your seat for Shinjuku-Takayama from the following link.
http://highway-buses.jp/takayama/
Round trip fare: Adult 6,690 JPY Child 3,350 JPY

*Discount connecting ticket to World Heritage Site Shirakawago is available at the ticket counter. Reservation for this ticket cannot be made online. Please request connecting ticket from the ticket counter at Shinjuku Express Bus Terminal on the day of departure.

[Bus Timetable from Takayama ⇔ Shirakawago]
https://www.nouhibus.co.jp/english/highwaybus/shirakawago.pdf

From Tokyo
By Rail
Take a JR Tokaido Shinkansen Line from Tokyo station to Nagoya Station (2 hours), and take a JR Takayama Line from Nagoya to Takayama Station (2h 10mins). Take a Nohi bus from Takayama to Shirakawago (50 mins)
You can use Japan Rail Pass
http://www.japanrailpass.net/

From Osaka
By Rail
1h from Shin-Osaka to Nagoya Station by Shinkansen Line, and 2h 10 min from Nagoya to Takayama Station by JR Takayama Line. 50min from Takayama-Nohi Bus Center by bus.

From Nagoya
By Rail
2h 10 min to Takayama Station by JR Takayama Line. 50min from Takayama-Nohi Bus Center by bus.


Recommended ways to enjoy the event:

Stay Overnight
The best way to enjoy the light-up event would be to stay overnight at one of the farmhouses in the village. However, as there are only limited number of lodgings available and the event is so popular, guest rooms run out very quickly a lot in advance especially during this event. Be aware that some buses to Shirakawago require seat reservations and seats may run out on the day of the illumination.

Visit by bus tour
Bus tours are available at a couple of tour companies for seeing the light-up event. Some tour simply provide a chartered bus for access from Takayama or Kanazawa and back and some tour include an overnight stay..

Visit by car
The parking lot is most likely closed during the light-up event. A special parking lot is opened for private cars instead. Driving from Kanazawa/Takayama to Shirakawago is not safe due to the heavy snow in winter if you are not used to driving in snow. Note that winter tires is required to access Shirakawago by car.